Women's Health Bundle from Revive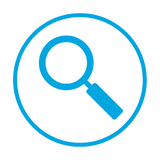 Lab Tested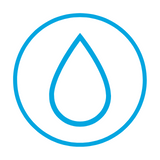 Doctor Formulated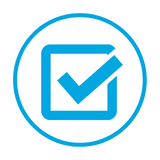 No Fillers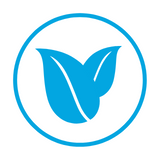 Natural Ingredients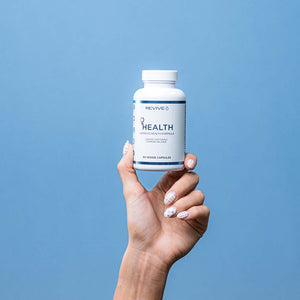 Women's Health
It is common for females to go through phases of hormone fluctuation that can result in many undesired physical side effects. These fluctuations can be influenced by environmental factors including the food that we eat, extreme dieting, or birth control-related issues. This formula may help support already-healthy estrogen levels and healthy estrogen metabolism. Thereby, potentially minimizing bloat and acne that may accompany hormone fluctuations.
Learn more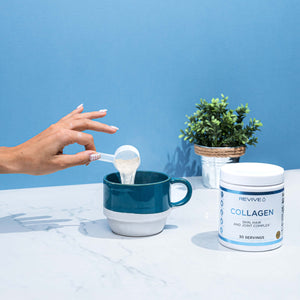 Collagen
Collagen is the most abundant protein in the body. In humans, it accounts for one-third of the total protein mass and plays a vital role in the structure and integrity of joints, skin, and hair. Regular collagen is a large protein that may not be well absorbed by the body. This is why we use hydrolyzed collagen. Hydrolyzed collagen is broken down into smaller proteins (peptides), which have shown to be more easily absorbed in the digestive tract. Once absorbed, the body uses the proteins to protect and rebuild connective tissue.
Learn more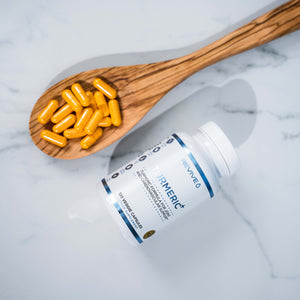 Turmeric+
Made with boswellia extract, curcumin, and R - ALA and ginger, this powerful supplement was formulated to promote the maintenance of an already-healthy inflammatory response. We have also added two patented ingredients Astragin and Bioperine, to help these powerful ingredients be properly absorbed and utilized. The compounds in Turmeric+ support organ health and joint function by inhibiting inflammation throughout the body.
Learn more
Women's Health Bundle works well with